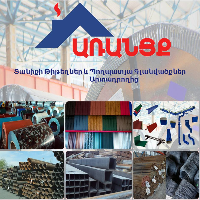 Վաճառքի օպերատոր
Employment term: Permanent
Category: Sales/service management
Job type: Full time
Location: Yerevan
Job description:
- Աշխատանքային օրերը երկուշաբթի - շաբաթ
- Աշխատանքային ժամերը՝ 09:00-18:00
- Աշխատավարձը` սկսած 150.000 դրամից
/en/vacharhki-operator-6
Job responsibilities
- Հաճախորդին ներկայացնել ապրանքատեսականին
- Կատարել Հաշվարկ
-Կատարված հաշվարկը մուտքագրել համակարգիչ
- Պահեստի մուտքի-ելքի շարժի ձևակերպում և վաճառք
Required qualifications
- Համակարգչի (MS Office) փաթեթի գերազանց իմացություն
- Տեխնիկական կրթությունը ցանկալի է
- Աշխատանքային փորձը համապատասխան ոլորտում ցանկալի է
Required candidate level:
Mid level
Salary:
150000 AMD - 200000 AMD
Net
a month
Soft skills
Positive attitude
Flexible
Detail-oriented
Teamwork
Fast learning ability
Hardworking
Sense of responsibility
You can apply for this job just by following Application procedure.
Application procedures
3*4 չափի նկարով ինքնակենսագրությունները կարող եք ուղարկել hr@arantsk.am էլ. փոստին՝ (subject, тема) հատվածում նշելով աշխատատեղի անվանումը, որի համար դուք դիմում եք:
Please clearly mention that you have heard of this job opportunity on staff.am
Share this job via your favorite social media channel.